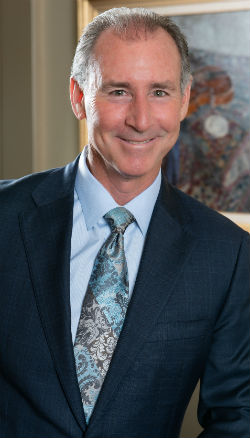 Kevin K. Callahan is a partner at Thon Beck Vanni Callahan & Powell. A 1981 graduate of Brown University, Mr. Callahan earned his J.D. from the University of California at Los Angeles School of Law in 1984. He was elected as President of the Pasadena Bar Association in 2015, and served as the past Chair of the Association's Litigation Section. His service for the legal community also includes sitting for many years on the Litigation Section Executive Committee of the Los Angeles County Bar Association working on funding, administrative, and professional issues. He is also a member of the American Association for Justice, the Consumer Attorneys of California and the Consumer Attorneys of Los Angeles.
As a result of his work for clients and his service to colleagues within the legal community, Kevin K. Callahan was designated as a Super Lawyer in a Los Angeles Magazine survey of his peers in 2006 and again each year from 2008 through 2023. Kevin was named a Top 100 with Super Lawyers in 2016, 2018, 2019, 2021 and just was named for 2024. In 2015, 2018 and 2021, he was also named one of the "Top 100" Southern California Super Lawyers. Kevin K. Callahan has also been named a top attorney in the personal injury field by Pasadena Magazine each year from 2010 through 2023, each year the honor has been awarded. Mr. Callahan is also married and the father of three boys, and has been an active Little League coach and administrator for many years.
EXPERIENCE, PERSPECTIVE, EFFECTIVENESS
Kevin K. Callahan is skilled at resolving the most complicated legal disputes. He worked for 13 years as a defense attorney representing defendants, including insurance companies, in a variety of civil personal injury cases, before transitioning more than 20 years ago exclusively to the representation of those who have suffered personal injury or the loss of a loved one as a result of the negligence of others. Mr. Callahan's extensive background gives him the well-rounded perspective that makes him a knowledgeable, skilled, and effective advocate for injury victims.
RECENT HONORS
Pasadena Bar Association President (2015)
Named Southern California Super Lawyer by Los Angeles Magazine (2006, 2008-2021)
Named "Top 100" Southern California Lawyers by Los Angeles Magazine each year from 2010 through 2023 (2015, 2018, 2021)
RECENT SIGNIFICANT VERDICTS AND SETTLEMENTS
Traumatic Brain Injury: $8.5 million
Construction Site Accident: $5 million
Wrongful Death (Auto Accident): $2.3 million
Trucking Accident: $2.1 million
Wrongful Death: $2 million
Premises Liability: $2 million
Product Liability: $1.7 million
Traumatic Brain Injury: $1.5 million
Wrongful Death: $1.5 million
Motorcycle v. Auto: $1.5 million
Pedestrian v. Auto: $1.5 million
Traumatic Brain Injury: $1.5 million
Bike v. Auto: $1.1 million
Pedestrian v. Auto: $925,000
Product Liability: $900,000
Auto v. Auto: $900,000
Trip-and-Fall: $653,000
Pedestrian v. Public Transit: $575,000
Auto v. Auto: $500,000
Bike v. City: $449,000
Parking Lot Trip and Fall—$3,000,000
Pool Slip and Fall—$1,500,000