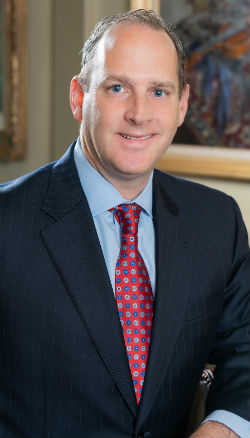 Michael P. O'Connor is a partner at Thon Beck Vanni Callahan & Powell with over 20 years of experience representing victims of catastrophic accidents and wrongful death. Mr. O'Connor handles cases involving, but not limited to, the following: automobile, trucking, motorcycle, and pedestrian accidents; slip trip and falls; dangerous and defective products; construction site accidents; dog bites; traumatic brain injuries and spinal cord injuries. Mr. O'Connor has consistently been named Super Lawyer by Los Angeles Magazine and Top Personal Injury Attorney in Pasadena Magazine. He serves as President of the Pasadena Bar Association and as Chairman of its Litigation Section. He is also the Past-President of the Irish American Bar Association.
Mr. O'Connor has obtained multiple million-dollar verdicts and settlements for his clients and their families. He is very passionate about serving his clients and obtaining justice for them.
EXPERIENCE YOU CAN TRUST
Mr. O'Connor earned his B.A. at John Carroll University and his J.D. from the State University of New York, Buffalo School of Law, in 1997. While in law school, Mr. O'Connor clerked for the Erie County District Attorney's Office and the U.S. Attorney's Office for the Western District of New York. He is admitted to practice law in California and New York.
Mr. O'Connor is skilled at getting outstanding results in complicated cases through, mediations, arbitrations or trial. Mr. O'Connor was named a top personal injury attorney by Pasadena Magazine for ten consecutive years (2010-2020) and has been designated as a Super Lawyer from 2015-2020 by Los Angeles Magazine.
RECENT RESULTS
Premises Liability/Workplace Injury verdict:  $7,100,000
Explosion Construction Site verdict: $6,500,000
Construction site injury: $2,500,000
Auto v. Auto:  $2,000,000
Slip-and-Fall: $1,375,000 settlement
Trip-and-Fall: $1,275,000 settlement
Defective product settlement: $1,050,000
Wrongful Death: $1,000,000 policy limit settlement
Trip-and-Fall: $950,000 settlement
Motorcycle v. Auto: $850,000 settlement
Wrongful Death – Drowning: $850,000
Auto v. Motorcycle: $700,000 wrongful death settlement
Auto v. Auto: $600,000 settlement

Transport Company Negligence:  $600,000

Negligent Security: $500,000

Negligent Security: $500,000 settlement
Slip-and-Fall: $450,000 settlement
Adult Daycare Transportation Negligence: $450,000 settlement
Slip-and-Fall verdict: $414,868.28
Slip-and-Fall: $375,000 settlement
Trip-and-Fall: $325,000 settlement
Auto v. Auto: $325,000 settlement
Slip-and-Fall: $300,000 settlement